Independent Sentinel by Dianne Hermann
"Whoever wishes to foresee the future must consult the past,
for human events ever resemble those of preceding times."
Machiavelli
Week of April 10-16, 2017
April 10
1790 – Captain Robert Gray is the first American to circumnavigate the globe. He repeats his trek in 1793. Gray died in 1806 at the age of 51.
1849 – Walter Hunt patents the safety pin. He sells the rights for $100. Hunt patents many inventions including the fountain pen, streetcar bell, street sweeper, and nail-making machine.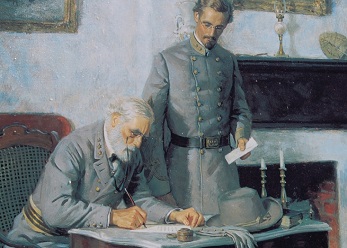 1865 – General Robert E. Lee issues his last order at Appomattox Court House, General Order #9, praising his soldiers and ordering them to return home.
1866 – The American Society for Prevention of Cruelty to Animals (ASPCA) is founded in New York City by philanthropist and diplomat Henry Bergh.
1869 – Congress passes the Judiciary Act of 1869, which among other things, increases the number of Supreme Court justices from 7 to 9.
1912 – RMS Titanic sets sail for New York City on its first (and only) voyage. The "unsinkable" ship hits an iceberg just before midnight on the 14th and sinks on the morning of the 15th. Titanic's survivors arrive in New York City aboard the Carpathia on April 18th. Watch grainy silent footage of survivors aboard the Carpathia in New York:
1916 – The Professional Golfers Association of America (PGA) is created in New York City.
1930 – Thiokol synthetic rubber is first produced in Yardley, New Jersey. Two chemists create the substance while trying to invent an inexpensive antifreeze.
1941 – Ford Motor Company becomes the last major U.S. automaker to recognize the United Auto Workers as the representative for its workers[…]