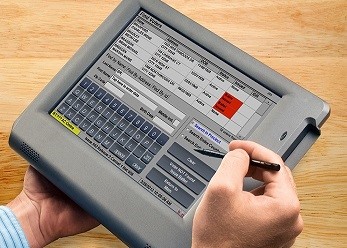 Although the theft occurred  Saturday evening, a Cobb County precinct manager waited until Monday to report that four (4) voting machines needed today for Georgia's 6th District Special election were stolen from his truck.
Georgia's Secretary of State Brian Kemp assured voters that the election machines would be replaced at the Piedmont Road precinct in time for today's 6th District Special Election, the purpose of which is to fill the seat vacated by Tom Price, Secretary of Health and Human Services.
The four so-called ExpressPoll machines were the computers poll workers used to check-in voters, and check those off who cast ballots.
Cobb County Elections Director Janine Eveler said the stolen machines cannot be used to fraudulently vote in Tuesday's election. Eveler said the machines have voter information on them, but that information is 'hard to access.'
Eveler said they will completely replace the machines at the Piedmont Road precinct.
'It should be as secure as the banks, or anywhere else with our information,' another voter said[…]
Secure as the banks?  PayPal? Amazon?  Really?
Progressives are desperate and working overtime in collusion with their media propagandists to flip the state of Georgia from red to blue. Throw into the mix, their penchant for election fraud and the timely theft of four voter machines containing the personal information of voters, describing the stolen equipment as "hard to access" is not re-assuring.
Whatever the results, voters in the 6th District will have to wait until after the election has died down to find out that they voted two or three times, that their loved ones' long deceased voted and how many more people voted than lives in the 6th district.
Four voting machines containing voter's info stolen in Cobb; Elections replacing them, but voter data at risk. Sec of State upset. @wsbtv pic.twitter.com/ninl975XYE

— Ross Cavitt | WSB-TV (@RossCavittWSB) April 17, 2017
The Polls.
According to the polls (yes, the polls, the same polls that had Hillary Clinton winning the 2016 presidential election until she didn't), are claiming that Progressive candidate, John Ossoff holds "an extensive lead over the rest of the field, with Republican Karen Handel in second."
Real Clear Politics has Ossoff with a 25.8% lead, however, in none of the data polled does Ossoff poll higher than 43%. See RCP polling data below:
Progressive candidate, Jon Ossoff, cannot vote for himself.
For some reason, these tidbits of information tend to surface rather late in the game.  H/t Wayne Dupree.
Candidate, John Ossoff, cannot (won't say will not, after all he's a Progressive) vote for himself in today's special election because Ossoff does not live in the district where the election is taking place.
Osoff does not live in 6th District.
According to Osoff, he grew up in the community and it's his home except that it is not and being a Progressive, everything else is irrevelant so long as the Progressive endgame is achieved.
Jon Ossoff, the Democratic candidate for Georgia's 6th Congressional District faced questions on CNN Tuesday on the fact that he could not vote for himself due to residency issues.
'Mr. Ossoff, is it true that you cannot vote for yourself?' New Day host Alisyn Camerota asked.
'I grew up in this district. I grew up in this community,' Ossoff said. 'No one knew there was going to be an election coming. I've been living with Alicia, my girlfriend of 12 years, down by Emory University where she's a full-time medical student….'
Cross-posted on Wow! Magazine.