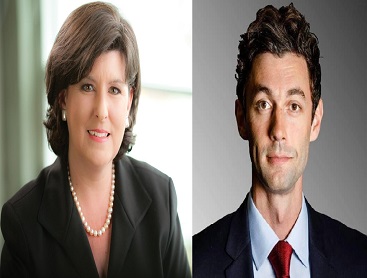 Despite major outside money, FAKE media support and eleven Republican candidates, BIG "R" win with runoff in Georgia. Glad to be of help!

— Donald J. Trump (@realDonaldTrump) April 19, 2017
Okay Mr. President.
Well, President Donald Trump has a point.
Despite all the tens of millions of dollars poured into propping up 30-year-old Marxist puppet Jon Ossoff, nudging of voters by Marxist Hollywood elites and fellow outside agitators/Progressive bureaucrats, none of whom like Ossoff lives in Georgia's 6th District, Progressives failed.
Of course, they'll play Tuesday's special election off as a victory and smite at the President but let's be honest, that ground game which Communists and their media propagandists boasts about failed to deliver.  Ossoff who hasn't lived in the district for 12 years and couldn't even vote for himself in the special election Tuesday, did not deliver.  Enter the June runoff.
Breitbart News by Patrick Michael Leahy
It was a photo finish in the "jungle primary" special election in Georgia's Sixth Congressional District on Tuesday to select a replacement for Rep. Tom Price (R-GA), punctuated by unusual technical reporting delays from Fulton County, the largest county in the district.
In the early hours of Wednesday morning, thirty-year-old Democratic candidate Jon Ossoff fell just short of the 50-percent-plus-one vote total he needed to avoid a June runoff with the GOP's Karen Handel, the former Georgia Secretary of State who finished in a distant second.
CNN declared the race a runoff between Ossoff and Handel shortly after midnigh…
With 177 of 210 precincts reporting as of 12:25 a.m. eastern on Wednesday morning, the Associated Press results had Ossoff in first place with 49 percent of the vote, followed by the GOP's Karen Handel in second at 19 percent, and the GOP's Bob Gray in third place and out of the runoff election with 10 percent[…]
The GOP just barely skirted by on this one.  From Paul Ryan down, the Republican Party needs to get its act together nationwide to stand behind Karen Handel and the President needs to stay on this.  Deadline: June.