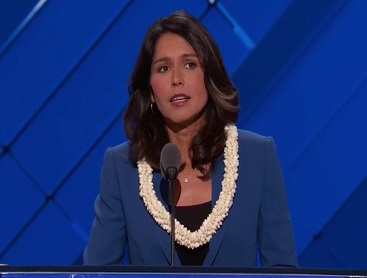 Rep. Tulsi Gabbard from Hawaii is once again hitting the nerves of Progressive leadership and pundits after questioning "whether Assad was responsible for the recent chemical weapons attacks in Syria."  Gabbard's vocal opposition to last week's U.S. military's airstrikes on a Syrian air field as ordered President Donald Trump did not sit well with Progressive leadership.
Below is the discussion that has Progressives and their minions riled up.
Gabbard took to twitter and not a moment too soon.  All hell was breaking loose.
Have we not learned from Iraq and Libya? The road to hell is paved w/ good intentions. Escalation means more dead children, more refugees.

— Tulsi Gabbard (@TulsiGabbard) April 7, 2017
The US should have supported a through UN investigation and international law in regard to the gas attacks in Syria.

— Tulsi Gabbard (@TulsiGabbard) April 7, 2017
(2/3) Whoever is found responsible, be it the Syrian govt, al-Qaeda, or ISIS, (all have access to chemical weapons) must be held accountable

— Tulsi Gabbard (@TulsiGabbard) April 4, 2017
The remarks infuriated some "progressive" Democratic figures, including former Democratic National Committee (DNC) chair Howard Dean and former Hillary Clinton policy director Neera Tanden, now the President of the Center for American Progress, a pro-Democratic Party think tank. The two suggested on Twitter that Gabbard, who also famously visited Syria for a covert "fact-finding" mission, should be expelled from Congress for her doubt of Assad's guilt.
"People of Hawaii's 2nd district – was it not enough for you that your rep met with a murderous dictator? Will this move you?" Tander wrote on Twitter on Friday, referring to Gabbard's recent comments she made to CNN.
@neeratanden @PaulBegala Are you kidding? Tulsi is one of the few in DC with a conscience and integrity to tell the truth.Murderous dictator? Who? Obama?

— Debra H. Freeman (@DebraFreeman) April 8, 2017
Gabbard, once a rising star on the left, fell out of favor with some among the Progressive early in 2016 after she resigned from her post on the Democratic National Committee, had a falling out with Debbie Wackerman Schultz after calling for more political primary debates and chose to endorse Bernie Sanders instead of Hillary Clinton.
Leading the charge is Center for American Progress', Neera Tanden, who is more known for her emails to John Podesta than working on Barack Obama and Hillary Clinton's campaigns. [Tanden, still having an axe to grind after the 2016 presidential election results was named last summer as one of the co-chairs of the Clinton-Kaine Transition Project.]
Enter that jackass, Howard Dean.
"Gabbard should not be in Congress," he wrote on Twitter on Sunday. Asked by one of the users why the former Governor did not display a similar indignation over "Hillary Clinton's mistakes," Dean responded: "Engaging in dialogue isn't the problem. It's claiming there is doubt Assad uses chemical warfare."
This is a disgrace. Gabbard should not be in Congress. https://t.co/yDTh43GZam

— Howard Dean (@GovHowardDean) April 9, 2017
In between Progressives eating their own is this one Marxist moonbat accusing Rep. Gabbard of being a Republican, correction "RIGHT WING."
Tulsi Gabbard is right wing b/c she doesn't want war with Syria
It is RIGHT WING 2 be antiwar now
Hillary has damaged the Left beyond repair

— 🦉WesleyZ3🦉 (@50th_President) April 9, 2017
THE CALM BEFORE THE STORM…sort of.
Below are two videos of discussions between Fox News Tucker Carlson and Gabbard.  The first video is of a discussion back in January after Gabbard along with former Congressman Dennis Kucinich traveled to Syria and met with Bashar Assad. (Gabbard also had a meeting with then President-elect, Donald Trump within days of the 2016 president-election.)
Gabbard returned to Tucker Carlson last week (second video) after President Trump's Syrian airstrikes.  In both instances, Gabbard is not regurgitating Progressive talking points angering many on the left.
What are the odds that Progressives will want attempt to primary Tulsi Gabbard who is popular?
yes Tulsi Gabbard did vote against letting in the Syrian refugees. @VanJones68 https://t.co/cmFSumnSsC

— Neera Tanden (@neeratanden) April 10, 2017
Let's be honest. None of this is about Syria, airstrikes, and/or chemical weapons. It is about getting rid of Tulsi Gabbard for not towing the party line, backing Hillary Clinton and for compounding the sin by endorsing Bernie Sanders.
I suspect that the plot to take Gabbard down will be about as successful as Hillary Clinton's presidential runs.